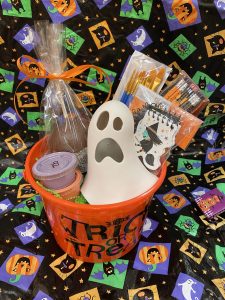 All buckets include a Halloween ceramic piece to paint, fresh chocolate caramel Halloween sprinkle apple from Rocky Mountain Chocolate Factory, 6 paint colors, a set of brushes, and a set of festive pencils, notebooks and stickers.  Easy curb side pick up available – makes a great Halloween gift or activity to do on Halloween! 
Buckets will be available for pick up in studio or curbside after October 20th!  Caramel apples are fresh so we recommend picking up your bucket as soon as possible (within 3-4 days) to guarantee best taste/freshness of your apple!  *Color Me Mine Glenview is NOT responsible for apples picked up late that are no longer fresh.    
Click HERE to see all the bucket options and to place your order!